Amid the unprecedented global health pandemic, healthcare providers were dealt a devastating blow to the fight against opioid addiction. While precautions like social distancing, working from home and isolation are proven to combat the spread of COVID-19, they have a synergistic effect on addiction by limiting crucial treatment options and heightening factors that contribute to an individual's disorder.
According to a Siena poll, 92% of frontline health professionals reported an increase in opioid use in their patients since the beginning of the crisis. Dr. Kaitlan Baston, the medical director of Addiction Medicine at the Urban Health Institute of Cooper University Health Care, called social isolation "one of the main drivers of substance use disorder." Indeed, 94% of frontline workers reported an increase in addiction relapses in their patients due to social isolation during the pandemic.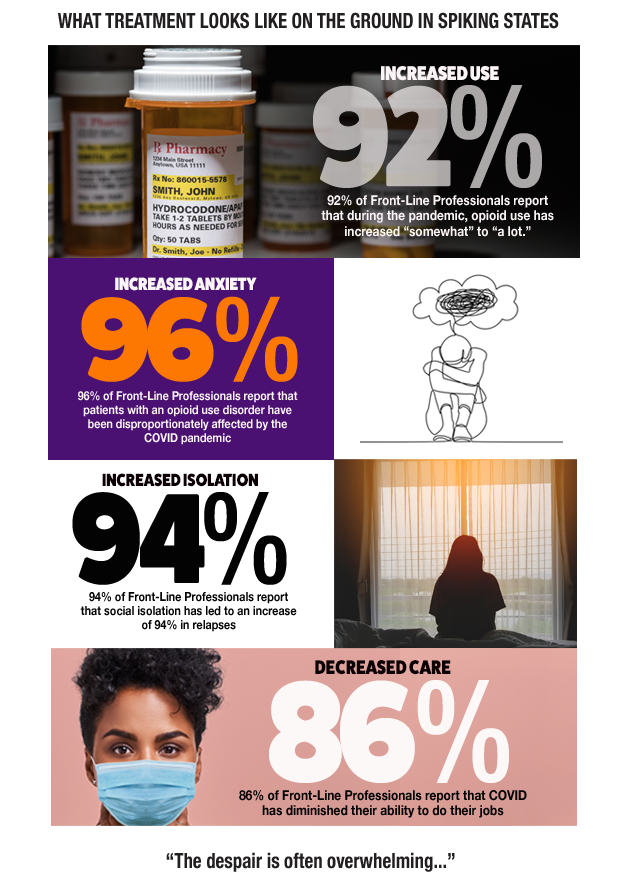 Graphic source: KIPU Health
Treatment
The very same safeguards put in place to protect individuals from contracting the virus have caused a loss of imperative treatments. Some treatment centers have suspended in-person group and one-on-one counseling due to social distancing, which has derailed what were otherwise treatment success stories. Commonplace support groups, such as Alcoholics Anonymous and Narcotics Anonymous, were forced to suspend traditional in-person meetings as well.
Nearly 86% of healthcare providers have reported limited ability to do their jobs because of COVID-19 preventative measures but remain more dedicated than ever to providing treatment to those with substance use disorders. 
Contributing Factors
Health professionals fear the recovery success individuals may have experienced before could be erased by factors exacerbated by the pandemic. Those fighting for recovery are plagued by anxiety caused by fear of contracting COVID-19, financial insecurity, lack of social support systems, homelessness, and isolation. 
While unemployment rates rise, the struggle individuals experience with their addiction is compounded by financial insecurity and potentially job loss or homelessness. These added anxieties can contribute to substance use disorders and lack of ability to pay for treatment. 
Those with substance use disorders may face life-threatening withdrawal symptoms as their supply lines are cut short. Lockdowns in major cities have prevented drug distribution and have resulted in some distributors mixing products with even more deadly substances, such as fentanyl, to meet demand.
How to Cope
For suggestions on how to cope with immediate stressors and anxiety caused by COVID-19, see our tools for recovery. Mindfulness and self-care techniques can promote better management systems for depression, anger, stress and anxiety associated with substance use disorders. 
The San Diego chapters of Alcoholics Anonymous, Narcotics Anonymous and Cocaine Anonymous have adjusted their meetings, including virtual and telephone meetings, to safely provide support for individuals with substance use disorders. More information regarding San Diego recovery meeting groups may be found on our recovery page.  
If the stresses of COVID-19 have derailed your sobriety or suspended your treatment plan, there is always a new opportunity waiting for you at Jackson House Addiction Treatment and Recovery Centers. We are fully prepared to help our clients who are ready to live a life free of drug and alcohol addiction, especially during the COVID-19 crisis. Take the first step and contact us at (619) 503-7680.